In this article, you will learn how to create a map with the most recent developments of the Russo-Ukrainian war, including interactive content.
Coverage of war and other major world events is the reason why many of our clients have chosen their field. We know that the quality of news is uncompromisingly important to you. However, data becomes scarce and hard to interpret during wartime. Therefore, searching for the necessary information consumes much time.
To help you report newsworthy happenings instantly, we developed the Russo-Ukraine War live data layer. It contains constantly updated information about the status of Ukrainian territories, as well as the location of Russian military units and headquarters.
Now you can focus on the story, not wasting valuable time trying to find the right data.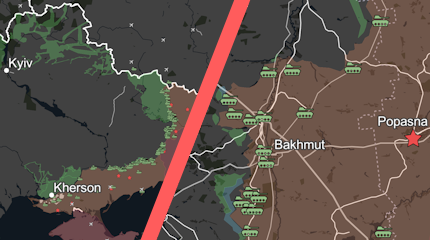 This is how you can get it to work:
Activate the Russo-Ukrainian War data layer in the "Data Layers" menu to display the status of territories and the disposition of the Russian military. Optionally, specific area types, icons, or the icon labels can be shown or hidden from the "Elements list" menu to show only the information relevant for your story.
Make a static map or explore the full potential of the layer by creating an interactive map. It allows your readers to learn more with popups containing information about the icons.

Updates from the source (deepstatemap.live) are retrieved every hour, so you can report on the latest events.